An interview with Amaliah Grace & Vanessa from Holistic Bliss Magazine for February 2019 Edition
HB.  What inspired you to write your book?
In the 1980's I read several of Shirley MacLaine's books and was inspired by her travels to Peru. Her writings introduced the world to spiritual knowledge that was not then commonly accepted beyond religion. Thirty years later, I arrived in Peru with an overpowering desire to experience the love of the Divine Mother. I visited a moon temple in Cusco where I felt a deep and profound connection. I had unwittingly begun a commitment with the Cosmic Mother and ignited my soul mission. I set out to challenge my fears and experience sacred medicine in ceremonies. In the Sacred Valley, I connected to the golden Star Matrix, was downloaded with sacred geometries and shown a diamond template – the Diamond of the Dove, the Template of Oneness– for humanity to move into the 5th Dimension. I was pushed by Spirit to courageously become visible and write my story to inspire others to honour their journeys too.
HB.   What messages do you share in your book that may help to contribute to people/our planet?
In this incredibly potent evolutionary timeframe, the potential for humanity to heal is dynamically available for everyone. Source vibration is tangible and close. Fears, lack of self-love and rigid belief patterns are the only things blocking us from living an expanded life, free of pain. Every human on the planet affects the consciousness of the whole. We are all responsible. Our karma is the Earth's karma. When we heal, the earth heals. We are being called to deeply align our hearts and souls and listen to the impulses from spirit. The vibration of our soul is staggeringly beautiful and is calling us home. To fully embrace the return of Divine Feminine consciousness to our planet, inviting us to honour our Sacred masculine and feminine aspects equally.A New Order of Spirituality is arising and I know that the Cosmic Mother underpins the foundations behind this New Earth spirituality, returning to love.
HB.   What did you learn about yourself with the book writing process and publishing process?
I learned that I loved to write, am crap at punctuation but good at structure! I also discovered I could write evocatively, and other people can easily relate to the healing experience within my story as well as my journey. The feedback I've received is very positive and heart-warming. Most importantly, I learnt to confront my fear of being visible and not allow that fear to stop me. I especially learnt to trust my voice. In the publishing process, I discovered that I knew nothing! While it was a delight writing the book, as a first-timer, the more daunting task was learning about publishing, from pitching to writing a book proposal, to marketing and promoting the book. Being creative was the fun bit, in contrast, the publishing process is hard yakka.  The task was enormous, but somehow I found the determination to face each new challenge as it arose.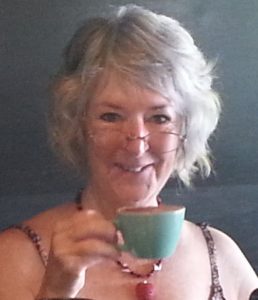 NOTE FROM THE AUTHOR
Thank you to everyone who is reading my story.  The feedback has been incredible. One person said that the writing is very human and another that she found it authentic. Others that they loved every moment of it.
DIANA'S REVIEW
I found Igniting the Cosmic Dance a compelling read. I thoroughly enjoyed every moment as I turned each page, so much so, that I want to read it again. The book was insightful and prompted Ah Ha moments that were revealing, holding my attention throughout. It was a joy to read and I relished each story and am now left wanting more, eagerly waiting for the Sequel.
Diana Carrodus
Reiki Master Teacher Registered Nurse, Seichim Sekhem and Kahuna Master Teacher, Shell Essence Practitioner, Kinesiologist, Massage Therapist, Baby Massage Instructor, Spiritual Healer