To receive

FREE

 Mp3 downloads of songs channeled by Amaliah Grace to balance, harmonize and anchor the galactic downloads affecting your physical body. Join Below.

WELCOME
Hello, its Amaliah Grace here. Thank you for dropping by. I am a Soul and Sound healing channel, speaking and singing in Light Language, the language of the Soul. The songs I sing are ancient healing songs of the Cosmic Mother seeded onto the planet by the Star Beings, to ignite our remembering. These songs speak to the heart and soul of "home" creating a deep knowing of one's star origins.
Dedicated to the Alchemy of change and transformation towards personal ascension and the ascension of planet Earth, my courses and workshops assist you to anchor and embody the highest aspect of your Soul's vibration.

When you listen to these songs and sound streams they have the ability to take you into profound states for healing, change and transformation. Creating balance and harmony through these potent times of major downloads and galactic portal openings.

Listen to this healing song Entry Point to the Matrix as you browse click the arrow below. For information on how to use this healing song CLICK HERE

TRAINED BY SPIRIT
I have been trained by Spirit through guidance and personal experiences over the past twenty years and have created a body of work that's main thrust is to enable full connection with the Soul.
My sounds and songs are an expression of the Divine Feminine, the mothering principal through a Goddess vibration from the Star System Sirius.
COMING SOON LIVE MEDITATION with Amaliah Grace.
NOVEMBER Wednesday 15th November at 7.30am GMT ~ 5.30pm AEST, with THE GIFT OF HEALING TV.
Join Amaliah in a live broadcast as she guides you through an inter-dimensional Gateway to release fears, insecurities and lack of love. To register for the teleseminar click the banner below.
CAN I HELP YOU
Do you have a passion to connect fully to your Soul and answer its call? Do you feel a tug from your soul to achieve something great in the world but can't pin it down? And have you recently awakened to a new you and have a passion to share with the world but there is no Road map to follow?
Fifteen years ago I was in a time of transition and for the first time in my life didn't know where I was going in the future. I was being prepared for something but had no idea what that something would be. I constantly asked my spirit helpers to show me the way, give me something tangible, a road map: but no, this wasn't the way spirit wanted to work.

Intuitive readers suggested I would be a medium of some kind, so I began to study what that meant and was disciplined in my spiritual development to meditate and shift from a reliance on my rational left brain. To become more trusting of my intuition to receive spirit guidance and honor my gut knowing. I spent hours working to connect upwards to receive channeled information while I typed blindfolded.
I surrendered and allowed my inner child expression by drawing with the non dominant hand and many other ways to unravel the onion skin of my disconnection from myself and my soul.
TOOLS TO ACCELERATE



These exercises prepared me along the way to become a channel for the Soul in the creation of PERSONAL SOUL SIGNATURE, SOUL GLYPHS and ACCELERATOR ART and the ASCENSION STAR CODES of LIGHT program are tools to accelerator your ascension and transformation journey.

The SOUL LINE CLEARING COURSE is a profound gift from the Cosmic Mother to clear outdated patterns through multiple lifetimes back to the original creation of the pattern. 
SOUL SIGNATURES
Connect to Source through the womb of creation to the purest form of love.

Trigger

the Soul's memory of its origins and can create rapid and synchronicity aligned with the Soul's mission for this millennium.

Activate

memory to access the Soul's original gifts and Soul lineage.

Upgrade

the physical body to imprint and activate the crystalline body template within the DNA.

Balance

polar opposites and assist in the dissipation of duality to creates a pure soul to heart connection.
AVAILABLE ONLINE NOW

 
 A profound spiritual development program, igniting the dormant DNA codes within your being, to raise your vibrations to the highest level. Daily repeated meditation with progressive Sound Light Codes and Visual Art Codes of Light in the ASCENSION STAR CODES OF LIGHT Series A, B and C.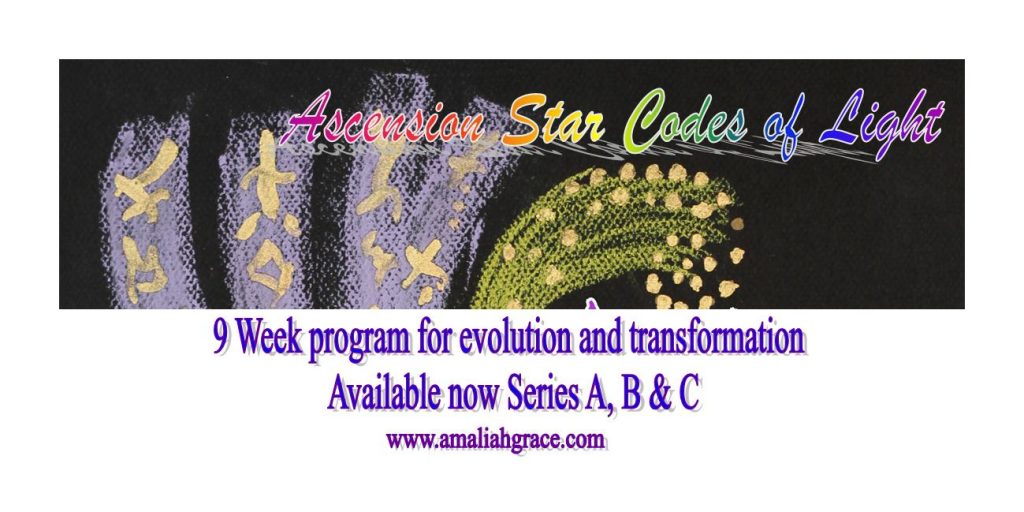 Through the use of sounding and ancient shamanic healing songs I often reconnect clients with lives of power.  With memories drawn to the surface people who vision, see and remember other lifetimes of pain, trauma or accidents. There are many tools I bring forward to assist in these healings.  Being the adult for your wounded inner child. Cutting ties with people or aspects that sabotage. All of these possibilities assist with clearing the individuals pain body of distortions to their female line, through timelines but also assisting with the collective feminine pain body of humanity.

YOU CAN DO IT TOO
Can you do change your direction into a new way of being? Yes you can achieve the clarity you desire. If I can do it, so can you and I have the tools to guide you there. Imagine that you wake up each morning from your dream state with clear messages and guide posts of what next to do for that day. You sit still in contemplation and the ideas stream in, taking you a step closer to your soul's mission. Aligned with Divine timing, there is magic in the air.
And yes, you will need persistence, discipline and courage to take these next steps but it is worth it. For a breakthrough say yes aloud and see how good it feels. Don't let your fear limit your potential. If you do nothing now, your life will stay the same. Decide to spend a concerted amount of time and effort on your spiritual practice and your new venture with reveal itself.
THE FIRST STEP TO TAKE
Fill out the form above in the top right hand corner and I will email you the download link so you can begin to discover more connection with your Soul.
A series of free mp3 songs are waiting for you.
MY MISSION TOWARDS ASCENSION

To help you find who you truly are
To give you keys to unlock your truth
To assist you to connect with your inner guidance
To support you in following your intuition
To follow your truth, even when it means stepping out of the comfort zone of normal human perception
To assist you to trust your spiritual talents and follow your Life Path Mission
I am committed to anchoring the Divine Feminine vibration onto the planet. Through holding the light of the Goddess and singing Ancient Healing Songs and Sounds. I have embraced my connection to the Cosmic Mother, the Goddess, the Mother of all things, the Mothering Principle.
I endeavor to assist humanity with my songs and to heal the distortions to woman through the ages.
To bring forward awareness of the fullness and truth of the Goddess, the Mother vibration. She represents nurturing, unconditional love, growth, compassion, intuition and connection to Soul and Source.
I am dedicated to pass this profound and exquisite vibration to others, through original sound; the language of Soul, the language of Light.
In honoring the Feminine Principle, we bring gentleness and harmony to our lives, available for all men and women, through understanding the nurturing and nourishing essence of Gaia, our planet. I accept into my life that ONLY LOVE IS REAL.
Please enjoy my website
As you do may the Grace of the Divine Mother embrace you.